This year brought extraordinary advances in technology. Appliances are getting smarter, and a wide array of software is available to make running a business faster and more efficient. These ten technology gifts are perfect for the entrepreneur in your life.
Amazon Echo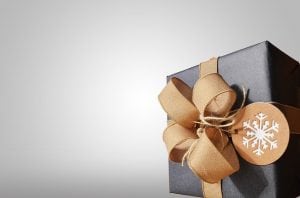 The all-new Amazon Echo has a sleek design and better sound quality. It works in conjunction with the Amazon Alexa digital personal assistant app to play music, make hands-free calls and answer whatever questions spring to mind. Simply say, "Alexa, what is the next appointment on my calendar?" or "Alexa, buy more toilet paper."
Garmin Speak
Alexa isn't just for indoor support. Business owners can connect to their digital personal assistant in the car, too. The Garmin Speak is an excellent option for people driving cars that didn't come with comprehensive infotainment systems. Garmin Speak links to smartphones, making it simple to ask for directions, make calls and find great music completely hands-free.
MyPassport Hard Drive
Data loss can be devastating, whether it is due to a hardware issue or a cyber-attack. Unfortunately, entrepreneurs with an artistic flair, for example, architects, graphic designers, photographers and videographers, can run into an issue with storage space when trying to back up their files. The WD MyPassport Hard Drive solves this problem with capacity up to four terabytes, ensuring weeks of work stay secure.
HP Sprocket 2-in-1
When you need the ability to wirelessly upload photos or get them printed without going to a photo kiosk, the HP Sprocket 2-in-1 offers a perfect mix of convenience and quality. At the moment, this tiny photo printer is particularly hot in the insurance and real estate industry, but applications for other professionals are nearly unlimited. Link up using the Bluetooth® connectivity feature and enjoy instant 2" x 3" photos or stickers from a printer no bigger than a smartphone. It makes a perfect gift for the small business owner in your life.
Garmin Fenix 5 Sapphire Fitness Watch
Business owners need to look the part, particularly when working with high-end clients. It's often not appropriate to wear a standard fitness tracker that attaches with a basic rubber band. Garmin's Fenix 5 Sapphire Fitness Watch takes fitness tracking to the next level, with the ability to monitor steps, heart rate, sleep and a host of sporting activities. Better yet, it looks like a luxury timepiece that is suitable for any occasion.
Tile Anything Finder
It's hard to make your first million when you can't find your keys. The same goes for just about any business-critical items. Fortunately, Tile Anything Finders can help. Tile links to your smartphone through Bluetooth® technology, and it is small enough to attach to almost anything. If you are looking for a missing object that is equipped with a Tile, use your smartphone to quickly locate it. When you give the command, your Tile will start playing music until you turn it off. It can even tell you the last place you had the item if you keep the Tile app running in the background on your smartphone. These little gadgets can be bought individually or in combination packs, so there is an option for any gift-giving budget.
Peak Design Everyday Backpack
No matter what the business, there is probably a lot of gear that needs to be lugged from meeting to meeting and sales call to sales call. Laptops and tablets are just the beginning. Peak Design's award-winning Everyday Backpack makes it simple to store everything in an attractive, easily portable pack that can be customized to suit changing needs. One of the best features is the padded inside pockets that are specifically designed to keep accessories organized and out of harm's way.
Netgear Arlo Pro 2 Wireless Home Security System
It can be tough to find a balance between budget requirements and sufficient security, but now small business owners have a new option that falls in-between nothing and expensive security monitoring services. The Netgear Arlo Pro 2 Wireless Home Security System can be easily adapted for small business use, making it possible to remotely monitor office activity and sound a powerful alarm if anything goes awry. This technology is compatible with Amazon Alexa as well as Samsung's SmartThings. This package includes two HD cameras, but alternative packages are available.
Anker Astro E1 Battery Pack
Entrepreneurs don't have time to wait for devices to charge, and they can't go without these critical communication tools. The Anker Astro E1 Battery Pack is an inexpensive solution to a major problem. It's small, portable, and powerful enough to charge most smartphones twice before running out of juice. It is capable of getting an iPad mini up to about 80 percent and it offers a few minutes of emergency power for other tablets and laptops.
Bose QuietComfort 35 II
The fact is that running a business requires intense focus and concentration. That means distractions can derail even the best-laid plans. The Bose QuietComfort 35 II wireless headphones do more than make music sound amazing. They have state-of-the-art, noise-cancelling technology to eliminate distractions in even the noisiest environments. Those who use Google Assistant get a bonus feature – a button that immediately connects the wearer with the app.
This holiday season, don't settle for stale gift-giving ideas. Fruit baskets and cookies are quickly gone and forgotten. Give business owners and entrepreneurs the gift of advanced technology that will make running their company easier and more efficient.