Most small business owners are well aware that basic security measures are a must in today's digital economy. Antivirus software and firewalls should already be in place to protect against data theft and malware. However, the growing value of digital assets has prompted cybercriminals to innovate, and small business owners must stay a step ahead of them to keep critical information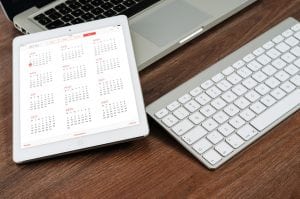 and equipment secure. As you finalize your 2018 IT budget, be sure to include these three items in the IT column.
The Internet of Things (IoT)
Chances are you and your staff rely on mobile devices to conduct business when you are away from your desks. The convenience and flexibility that the Internet of Things (IoT) offers cannot be overstated, and research firm Gartner, Inc. forecasts that 20.8 billion "things" will be connected by 2020. However, connecting your smartphones and tablets to your company network creates new security risks, both for company data and personal information.
Hackers aren't limiting their activities to money-making schemes anymore, so simply keeping payment and account information out of mobile devices isn't enough. It is becoming more common for cybercriminals to use unflattering private details to further personal, political and business agendas. When planning your 2018 budget, set aside appropriate funding for comprehensive IoT security measures.
e-Commerce
Chip technology has effectively reduced the amount of credit card fraud involving physical payments. If you haven't already implemented the appropriate technology to process chip cards, put it at the top of your priority list. Unfortunately, security chips don't provide extra security for online transactions. As a result, cybercriminals are developing more sophisticated methods of profiting from e-commerce, and small businesses are under attack.
One data breach can destroy your reputation, so e-payment security is a must-have. One of the easiest ways to keep your customers safe is to accept a variety of payment methods. For example, PayPal acts as an intermediary, so you never take responsibility for buyers' card numbers. Make sure that your 2018 budget leaves funding for research and implementation of payment security measures.
Outsourced Cybersecurity
Research shows that cybersecurity is a serious issue for small businesses. However, 87 percent of small business owners do not think they are at risk. This misconception makes it possible for hackers to attack with few or no obstacles, and research shows that at least 50 percent of small businesses have fallen victim. The primary reason for targeting small businesses is that they lack the resources to launch and maintain comprehensive security plans. Unlike larger organizations, it simply isn't practical to keep an IT security expert on staff. Fortunately, there is a solution that falls between paying the salary of a full-time employee and having no dedicated personnel assigned to prevent issues, identify breaches and mitigate damage.
Outsourcing IT security and maintenance can be a cost-effective method of ensuring the safety of your company's data. Such services provide end-to-end IT support, which includes selecting and implementing the most effective software to meet business needs, maintaining and updating hardware and software, and creating full-service information security programs. These specialists conduct a needs assessment and create a list of recommendations that are intended to protect against cyberattacks as well as identify and correct any problems that occur. Contracted IT services may not have been in your budget for prior years, but 2018 promises to bring a lot of changes to the IT security landscape. Be prepared by including managed IT services like those offered by Xact IT Solutions in your spending plans.