Although it's one of the lesser considered elements of businesses of all kinds, finding the right IT service provider can work wonders for your company. However, it is also the case that collaborating with an unqualified IT service provider can cause much more harm than good. Finding the perfect IT service provider can be one of the most vital elements to maintaining a thriving business. That said, the following is an overview of three benefits of choosing the right IT service provider.
Proactive Services
One of the top benefits of hiring the right IT service provider lies in the ability to provide proactive services. Waiting until an issue occurs to find a way to fix it is a common method of managing one's IT system. Nevertheless, this may be one of the worst ways to have your IT system serviced. This is due to the fact that uncovering the issue and finding the perfect remedy can take some time to achieve. By waiting until you already have a problem, you stand to lose lots of time and money while you try to find the remedy and implement it.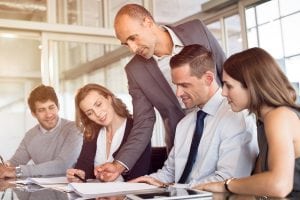 Employee Monitoring
Another benefit of choosing the right IT service provider is the ability to monitor your employees in real time. It's an important method of maintaining a high-functioning IT system, but many employers seem to all but ignore the negative impact employees can have on their IT system. Although it may not be intentional, your employees aren't always well-versed in the IT world, which leaves room for frequent mishaps. Indeed, while employees may believe they are qualified to manage elements of your IT system, even simple actions can severely compromise your entire system. On the flip side, the right managed IT service provider makes it much easier to keep track of your employees at all times, and they can even respond to any unexpected issues instantaneously.
Predictability of Costs
Lastly, another great benefit of finding the right IT service provider is that you are better able to manage and predict your IT costs. When dealing with the break/fix approach, it can be very difficult to predict and manage costs. This is due to the fact that the system tends to break down at a moment's notice and must immediately be fixed so as to not negatively affect business. By hiring the proper managed IT service provider, you will pay one regular fee that will cover any and all support needed to manage your IT system. Furthermore, the proper IT service provider will also be able to predict problems before they arise and thusly, are better prepared to respond to these issues as they occur.
Overall, there are plenty of benefits to hiring the proper IT service provider. In addition to proactive services, which can help to prevent disastrous breaches and breakdowns, they can also help with matter such as employee monitoring, which is one of the most underrated methods of maintaining an optimally functioning IT system. Additionally, hiring the right IT service provider can also help with the predictability of costs. Given how costly responding to an issue with your IT system can be, finding the right IT service provider beforehand can save you tons of time and money in the long run.