Securing sensitive data and safeguarding critical technology from cyber threats is vital for businesses, such as yours. The survival and growth of your organization depend on its ability to effectively withstand cyber attacks. This is where cyber risk management steps in.
Companies equipped with robust cyber risk management strategies can establish strong cyber defenses, mitigating risks while supporting business growth. Beyond just enhancing security, these strategies also guarantee that your business remains in compliance with government rules and regulations.
In this blog post, we'll share the fundamental principles of cyber risk management. We'll demonstrate how seamlessly integrating it with a straightforward yet potent security framework can pave the way for your business to achieve strategic success.
Key characteristics of risk-based cybersecurity
Risk-based cybersecurity allows organizations to focus their efforts and resources on the most critical risks. This approach is designed to minimize vulnerabilities, protect what holds the utmost importance for you, and guarantee that your decisions are well-informed.
Now, let's outline the essential traits of risk-based cybersecurity:
Prioritized investment: By identifying and assessing risks, you can focus your investment efforts on areas that require your attention most.
Risk reduction:  Taking proactive measures to identify and neutralize threats enables you to diminish and mitigate the potential impact of a cyber incident.
Addressing critical risks: Dealing with the most severe vulnerabilities first can help you enhance the security of your business.
Cyber risk management frameworks
Cybersecurity risk frameworks serve as a guide for businesses to achieve the full potential of a risk-based approach.
Here are several ways frameworks can help you enhance your current cybersecurity posture.
Frameworks:
take away the guesswork and give businesses a structured way to assess their current cybersecurity posture.
help organizations systematically focus their investments on addressing the most critical and relevant risks.
provide organizations with the right guidance that helps build security, which is crucial for building customer trust.
are built using controls that have been tried and tested. They essentially help businesses implement effective security controls.
are designed to help organizations achieve compliance with government and industry regulations.
NIST cybersecurity framework
The National Institute of Standards and Technology Cybersecurity Framework (NIST CSF) is a popular, user-friendly framework that empowers business leaders like you to boost organizational cybersecurity. Think of it as a valuable tool created by top security experts to help you protect and secure your digital assets.
Here's how the NIST CSF supports a risk-based approach:
It helps you understand your risk by identifying what is most valuable to you.
It gives you a high view of people, processes, technology, information, and other business-critical aspects that need to be secured from threats so your business can operate successfully.
It helps you prioritize your risks based on their impact on your business.
It helps you allocate your resources where they matter most and ensures you maximize your investment.
It promotes continuous monitoring and helps you adapt to evolving threats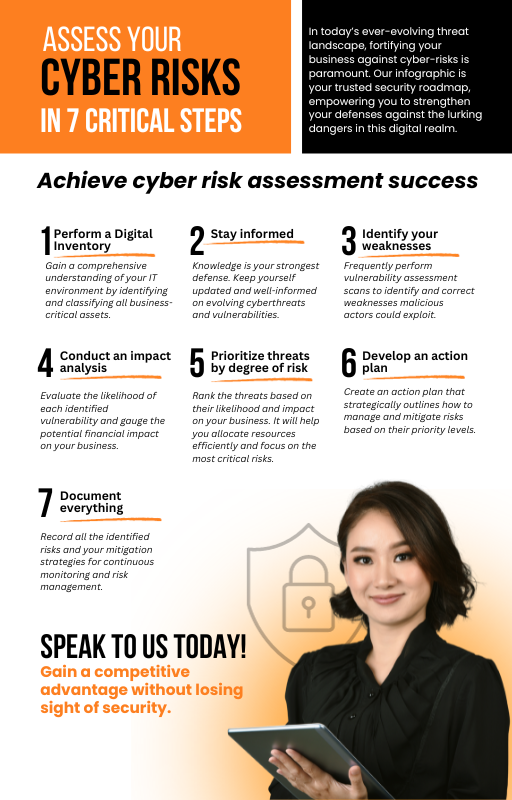 Cybersecurity Services Near You
Safeguarding your business from cyber threats is critical for the survival and growth of your business. Don't leave your business security to chance. Consider partnering with an experienced IT service provider like us. Contact us now!