Xact IT will keep your operations always-on and optimized at all times so you can deliver quality projects on time
With your business IT playing a major role in construction project planning, proportion determination, and day-to-day communication between your teams, clients, and vendors, one minute of downtime can mean halted operations, frustrated clients, and lost income opportunities. Worse yet, these damages will only accumulate as you have to wait for the technician to arrive hours, if not days, later.
Save your company from the setbacks and hassles by partnering with Xact IT for our IT Support service. Our skilled technicians will be on standby around the clock for any of your questions or problems. We'll identify the underlying cause of your issues, then resolve them with targeted solutions so you never have to waste resources on recurring glitches and expensive repair fees again.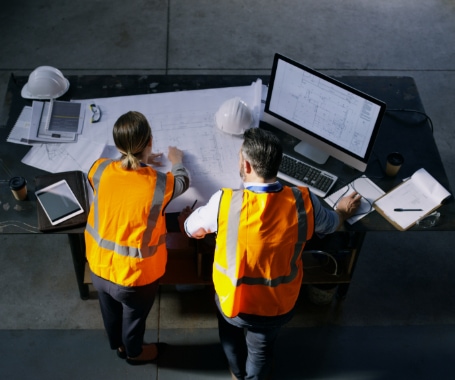 Our successful clients in the engineering and construction industry trust IT Support from Xact IT for:
Round-the-clock responsiveness
Efficient remote/onsite troubleshooting and targeted solutions
Ongoing expert advice on industry-specific technology best practices
Cost-cutting, flat monthly fee
What You Get from Xact IT Solutions
IT operations are essential to engineering and construction firms, especially now that more clients conduct business in the digital space.
Find out what Xact IT Solutions has to offer your business.