An information technology (IT) department is vital to just about everything a company does. It
facilitates
market research, advertising, sales and more. IT tools can locate potential customers on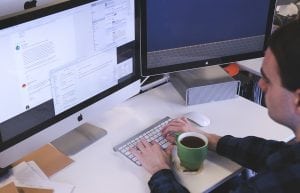 social media and target them with ads, and they allow for video conferencing, webinars and other forms of virtual communication.
For an IT team to flourish, though, it must receive thorough institutional support. Unfortunately, companies often shortchange their IT staffs in the following ways.
1. Neglecting IT
When you fail to prioritize information technology, your company stands to lose a distinct competitive advantage. If your IT department is understaffed or lacks resources, all kinds of negative consequences could emerge. Communications between your employees and your clients, suppliers, partners and vendors could be obstructed. Also, your
inventories
might be less accurate, and the online shopping experiences you provide might be less efficient.
Thus, you should empower your IT professionals to update their hardware and software as needed. And, if they need additional employees, you should definitely consider recruiting some new experts.
2. Not Allocating Enough Money for IT
Businesses occasionally opt for low-cost IT services or the most basic support possible. However, IT budgeting should be generous and
strategic
.
First, have your IT team members submit their goals for the short, medium and long terms. If you believe their objectives would benefit your company, sit down with those professionals and figure out how much it would cost to fund those plans.
You want to make sure your IT staff members have enough money for research and development, and for the programs and pieces of equipment they need to stay on the cutting edge.
3. Budgeting Only Hardware, Software and Vendor Support Costs
An IT budget should incorporate every tool and technique that will let your business realize its sales objectives. Therefore, it could include:
Internet backup services
Cloud computing
Emergency funds
IT-related human resources
Training sessions so your employees can stay on top of the latest developments
Travel costs so your team members can attend conferences
In short, if your IT staff members tell you that a certain item would assist them in doing their jobs, try to add it to your budget.
4. Holding Too Few Meetings With IT Vendors and Support Staff
You ought to meet, formally and informally, with your IT staff and vendors on a regular basis. That way, you can be sure that your vendors are always providing you with high-quality products and services, and you can answer any questions that they have. And, by being in constant contact with your IT support staff members, you can address their concerns quickly and effectively. Consequently, small problems won't balloon out of control, and conflicts won't fester.
Furthermore, all of that attention will help your IT employees realize that you value them. Otherwise, at least a few of them might start looking for work at a place where they'd feel more appreciated.
5. Not Appointing an Expert to Manage IT Vendors
Your company probably relies on multiple IT vendors. However, have you assigned one of your IT specialists to oversee them all?
You need someone who can research IT vendors and identify those that are reputable and reasonably priced. This individual can then negotiate deals and contracts with those vendors, as well as verify that your vendors make their deliveries on time. Additionally, whenever your vendors have issues to discuss, they'll know to contact this person.
In the end, a business can only be successful with a thriving IT division, and an IT division can only thrive with the resources and support it needs to keep evolving.